Everything you need to know to understand the concept and start planning an omnichannel marketing strategy
People tend to switch channels during shopping; thus, it's becoming essential to make this switching inconspicuous. Brands strive to provide customers with a seamless shopping experience, and the omnichannel strategy serves exactly this aim. That's why it's one of the hottest trends in retail right now. 
To embody omnichannel and facilitate a smooth customer journey, you need to unite various touchpoints as well as the online and offline branches of a business. How? Mostly through technologies: a modern CRM, headless commerce system, fancy native app, and so on.
In this article, I'll explain the difference between multichannel and omnichannel marketing and advise how to implement the latter in an eCommerce business of any size. You have the option of either listening to the audio or reading by scrolling down.
Topics covered
Omnichannel vs. Multichannel
If to describe the current situation in eCommerce, it's a long way from the multichannel to the omnichannel strategy. But these two notions are often confused.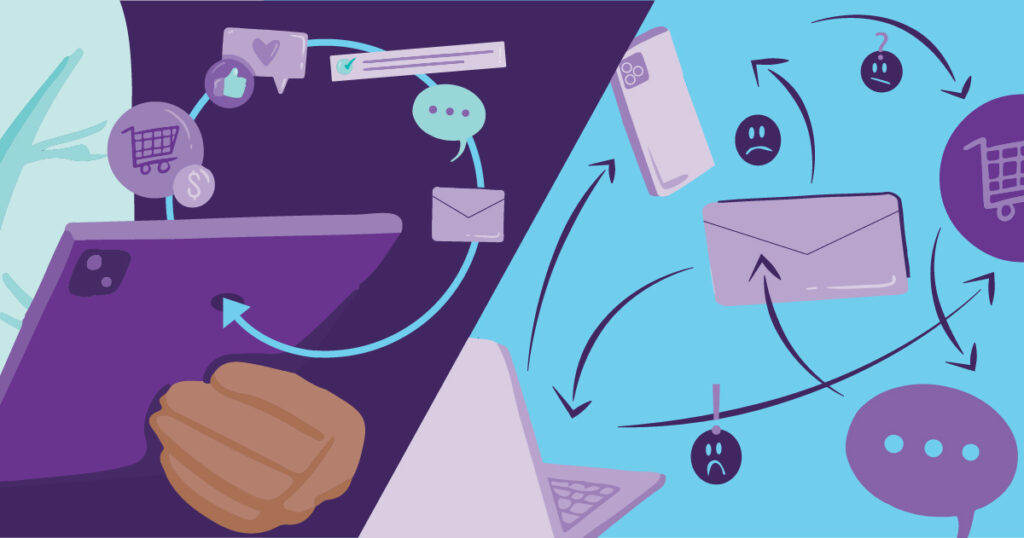 What Is Omnichannel?
In contrast, the omnichannel strategy is about coherent, seamless, and personalized customer-brand interaction across all the branches (online and offline) and all the means of communication a buyer uses.
Why is this approach getting more desirable in eCommerce? It's because of changing customer behavior: people use several channels during shopping. They browse online and purchase offline; order online and pick up offline; buy online and return offline; start on social media and continue on the website, and so forth. Those who somehow integrate all touchpoints eventually win loyal clients.
Let's see what Angela's customer journey would look like if she bought a table from a brand that pursues the omnichannel strategy. She visits a website, chooses a table, and adds it to her wish list. If she forgets to check in-store availability at home, she then does it in a mobile app on the go.
After that, she reserves the item and visits a brick-and-mortar store to pick it up. She can either pay for her new table online beforehand or right on the spot using an mPOS (a mobile point of sale) which is super quick. Besides this, she enjoys deeply personalized customer support, email send-outs, and product recommendations on the website/app.
Building an omnichannel marketing strategy is a great deal of work implying introducing new features to the store's website and application, choosing a modern CRM, and implementing complex technical solutions.
What Is Multichannel?
As the name suggests, there are multiple channels for interaction between customers and merchants. What are they? Everything counts: physical and online stores, brand's social media and messengers/chat-bots, email and telephone communication. Basically, all these touchpoints exist independently and separately.
Let's model a customer journey with a company that sticks to multichannel marketing. Angela is about to buy a table, so she visits an online store to find a proper one. She doesn't want to risk it and decides to see the table, touch it, and only then purchase. 
To check out whether the item is in stock in the nearest offline store, she has to make a call. Angela hates calling, but there's no other way to make sure. So she dials, waits for a while, and then hears the good news.
When on the location, she meets a salesperson who doesn't know the prehistory and starts to find out her needs. She has to stop him and explain one more time what she wants. Finally, Angela waits in a queue, pays (no Apple Pay, what a pity!), and leaves the store slightly irritated.
It turns out that even having plenty of interaction channels, a seller can't ensure a smooth and pleasant user experience. 
Traits of Omnichannel in eCommerce
Global fashion brands showcase probably the best examples of omnichannel as of now. For instance, H&M built a pretty solid bridge between its website, mobile app, and brick-and-mortar stores:
When users leaf through the catalog and opt for an item, they can check if the product is in stock in a particular offline store to go there and try it on.
The BOPIS / BORIS options are available. These abbreviations stand for "Buy Online, Pick up In Store" and "Buy Online, Return In Store" and give buyers more convenient and flexible shopping options.
Price tags on items in the physical stores have QRs/barcodes to scan and check the needed info on the website/in the app, add the product to a wish list, or share the link to it.
The app has features to scan barcodes/input the item number/make a visual search to find the product in the online catalog.
Some mobile apps (for instance, in the UK) have the "In-Store" mode. Customers can choose a particular location, and the app will show whether the needed items are in stock there. 
How to Start with an Omnichannel Strategy
Companies that actively use omnichannel state that it contributes to increasing CLV (customer lifetime value), covering new customer segments, enhancing operational efficiency, and raising their market share. A survey by Google showed that omnichannel strategies increase the rate of incremental store visits up to 80%. 
There are five aspects worth considering if you want to implement the omnichannel strategy in the eCommerce business.

Customer touchpoints. Create a customer journey map to illustrate how people interact with your company online and offline throughout the sales funnel and thereafter. Then use it to identify the main touchpoints you should work on.
Data-driven personalization. Customers need to switch between channels without losing the history of their communications with the brand. There are different platforms allowing you to record customer requests across all channels and save them in the profile. The collected data also helps to personalize further product recommendations and email campaigns.
Customer support. Take care of buyers during and after purchasing: provide FAQs and instructions online, install an AI-powered chatbot or a live chat for the website, mobile app, and social media.
Consistency across all channels. Regardless of the interaction channel, the client should receive an equal overall quality of communication (tone of voice, speed of response, helpfulness).
Mobile-first approach. As smartphones are becoming our hand extensions and have far more impressive functionality than desktop devices (tracking geolocation, using the camera (AR-functions), push notifications feature, and so forth), your mobile or web app need to work flawlessly and be staffed with features linking online and offline stores.
For mid-sized and small businesses, I'd recommend developing a headless commerce solution like a progressive web app. It's optimal in the financial terms and guarantees a far better shopping experience on smartphones than a regular adaptive website.
To Conclude
I would say the future of eCommerce (and commerce in general) is omnichannel since it's a consumer-centric approach. Currently, when there are numerous brands to choose from, an impeccable customer experience is key to boosting your brand's profit. 
Let customers interact with your brand in the handiest ways: switch channels, blend online and offline shopping experiences, and see personalized recommendations, newsletters, and messages. It might be too expensive to roll out a full-scale omnichannel strategy for a small or mid-sized company, but even a few omnichannel traits will have a favorable effect on sales and brand loyalty.
About the Author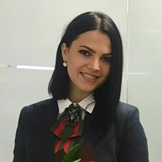 Kate Parish is the Chief Marketing Officer at Onilab with over 8 years of experience in Digital Marketing in the sphere of eCommerce web development. Kate always aspires to broaden her competency in line with cutting-edge global trends. Her primary areas of professional interest include SEO, branding, PPC, SMM, Magento PWA development, and online retail in general. You can connect with her on LinkedIn.