This is the first mini strategy Kelly prepared when we began offering our free mini strategy service. You'll find each section of the strategy in a separate tab below. So feel free to peruse the whole thing or skip to the sections that most interest you.
Note that we've changed the name of the business, and other information that could potentially be used to identify the business, to preserve the business's privacy.
John Smith Electrical Services
Free 3-point marketing strategy jselectricalservices.com.au
Introduction
This strategy deck contains the top three things you can do to improve your business's marketing and move you closer to achieving your business goals.
These tips were prepared by Kelly Wade, a marketing specialist based near Canberra, Australia.
KELLY WADE
MARKETING STRATEGIST
Kelly specialises in helping businesses tell their unique stories, connect with their target audiences, demonstrate their authority and leadership in their industries, and prove the value of the solutions they offer. In short, she conducts research and crafts strategies, content and copy aimed at helping businesses win more sales and grow.
If you would like to get in touch with Kelly, her contact details are as follows:
Email: info@kmwade.com
Phone: +61 439 367 421
Website: kmwade.com
She can also be contacted via an online call (using Zoom, Skype, Google Hangouts etc.)
Strategy
Within this strategy you'll find my top three recommended strategic actions. This is not meant to be a comprehensive strategy for your business but you should get good results from doing all three things. If you have any questions about these recommendations, please don't hesitate to get in touch with me!
Overview
You said your biggest business challenge is figuring out how to get to a point where you have enough work to hire another person on a consistent basis. As you've identified, improving your marketing is likely to be the biggest factor in making that happen.
You've identified that one of your biggest marketing-related challenges is keeping your blog updated with relevant and new content. As your blog is going to be one of your most important tools for attracting potential clients and converting them into satisfied clients, your first action is going to be related to your blog.
You've also identified 'reaching new customers via social media' as a challenge. Your social media profiles and blog can go hand in hand, working together to help you attract new customers. But your social media profiles can also act as a vehicle for improving client advocacy. Since word-of-mouth recommendations are particularly useful for tradies, your second action is going to be related to your blog.
You have not yet set up a Google My Business profile. This is one of the most important things brands can do if their offerings are tied to a geographic area. As such, your third action will be related to setting up and optimising a Google My Business profile.
I've listed your actions in order of importance. But I recommend you do action 3 first because it's a quicker, more discrete task…
You've been posting one new blog post each month for a few months now after a bit of a gap. But finding the time to update the blog is a challenge and figuring out what to write about is also a challenge.
Showcasing successful projects
Writing about topics of interest to your target market
Top areas for improvement
No one is finding and then clicking on your blog posts when they do Google searches
Blog post SEO
Creating blog posts for every stage of your sales funnel
Search engine ranking
Ideally, every blog post you publish should be designed to answer one or more questions your ideal clients have. Most of the time, this means they should show up in search results when your ideal client googles an answer to their question. And therefore your blog posts should be SEO-friendly. However, in some cases, your ideal client isn't going to google their question — e.g. a solution-aware prospect/lead might want to know whether you've done a project just like theirs before and they're unlikely to google 'has John Smith Electrical Services done a factory LED lighting installation before?'. When you produce blog posts that answer those kinds of questions, your SEO is going to be less important. But you can still answer more 'generic' questions within those posts and optimise your SEO particulars to help them rank for those kinds of questions.
As such, every one of your blog posts should have some SEO basics. These are listed below with links to pages that provide further details about what they are (in case you've never heard of them).
SEO particulars
An

 

SEO title

 

— this is the title that's displayed when your blog post shows up in search results (e.g. when someone googles a relevant term)
A

 

meta description — this is the summary that's displayed when your blog post shows up in search results
An SEO-friendly

 

URL slug

 

— this is the bit at the end of the blog post's URL
Other SEO-friendly things
A primary SEO keyword — this is the phrase that you most want your blog post to show up for in search results (the search query you most want to 'rank' for)
Usually at least one secondary SEO keyword — these are other high-priority search terms that you want to rank for and often you'll have one per blog post section
Appropriate use of SEO keywords — the primary keyword should be in the on-page title of each blog post (the h1 heading, which visitors see when they actually click through to your blog post), at least one sub-heading and at least the first paragraph of the blog post (it's also good to include it in the 'alt text' for at least one image)
Alt text for all images, videos etc. — alt text is displayed if the visual isn't loaded and is also read out by screen readers + search engines use it to help them decide when to display the media in search results (e.g. image search results or video search results)
Blog posts for your whole sales funnel
This is a huge topic, but in brief, your sales funnel goes like this:
And the buyer journey goes like this: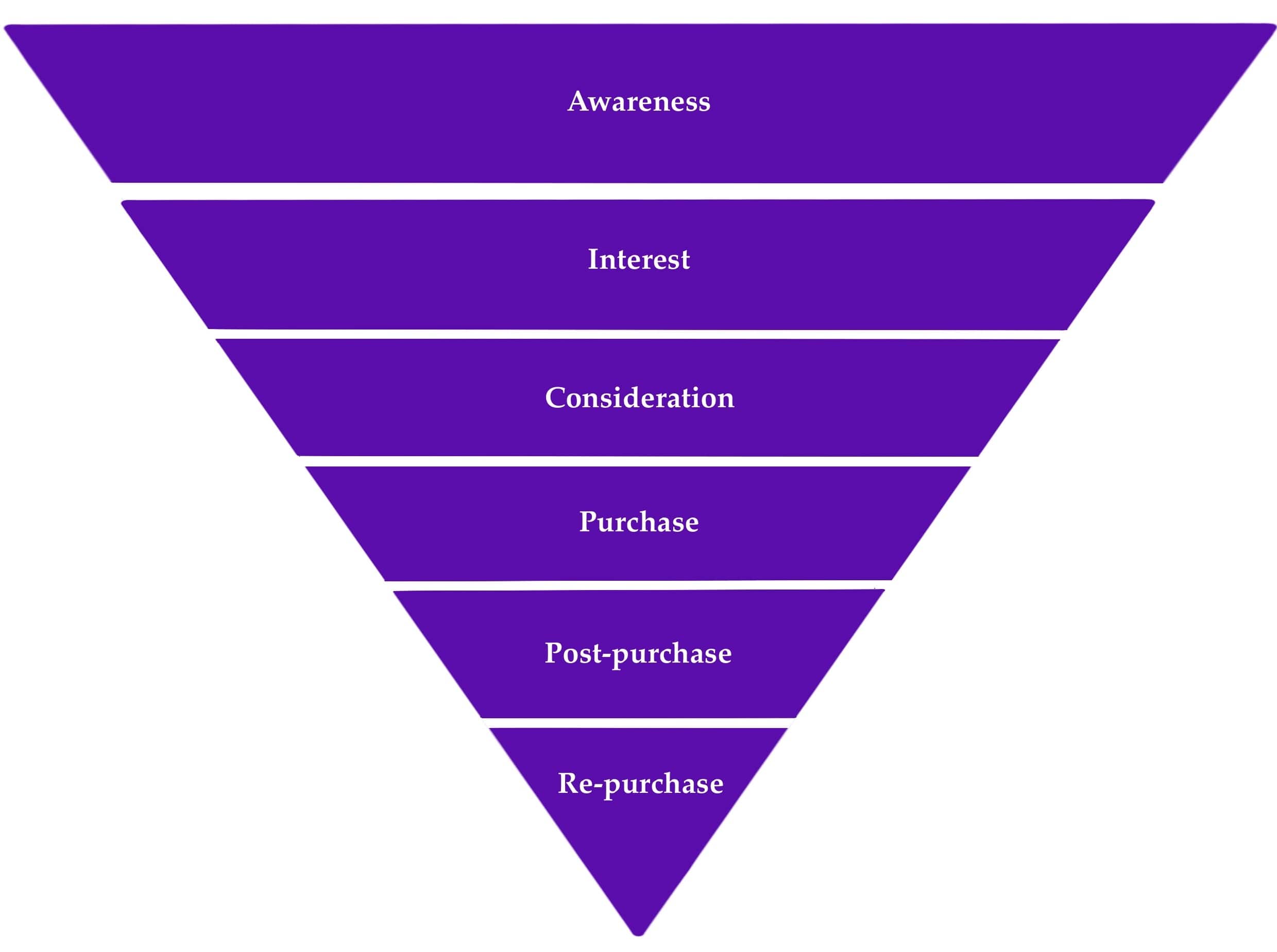 When you put the two together, you get something like this: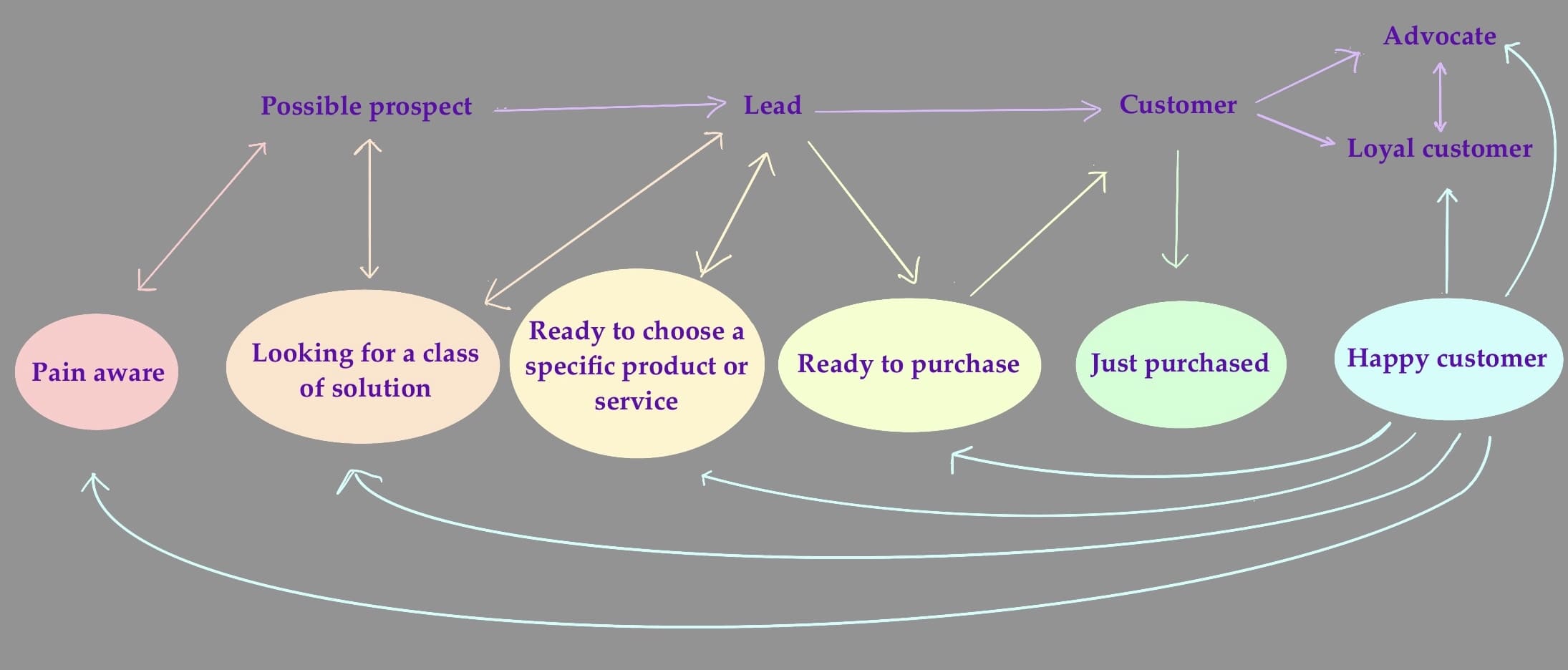 Your blog posts can help you market in every part of this process, except for the point where the actual conversion happens — the point when you tell someone to buy. At that point, you need copy…
At the moment, most of your blog posts are appropriate for people who are looking for a specific solution.
Go through all your existing posts and optimise them for search engines. To do this, chose a primary SEO keyword for each and where appropriate, at least one secondary SEO keyword for all blog posts. Then use these to develop optimised SEO particulars and to upgrade your blog post text and visuals. You may want to create your own template at this point for future blog posts. (See 'helpful resources' for something that may help with this.)
Take a look at your ideal clients and map out how they're likely to find you. A lot of the time, it'll be by googling something like 'electricians in Torquay'.
Then map out how they choose the services they want now and how you'd ideally like them to. A lot of the time it'll be because they have a specific issue, but once they're existing clients, they can also choose additional services if they're made aware there's an issue. For example, your blog post about upgrading downlights could trigger existing clients to review their lighting and this is an example of one way existing clients might realise they need other services that you offer.
Brainstorm potential blog post topics. Think about the problems your ideal clients might google. And think about the problems you solve that your ideal clients often don't know they have. Some of these problems are things you can solve for them. But some of them will be things they can solve themselves. Producing blog posts that cover both kinds of problems is really important.
Once you've got your topics, think about how you'd like potential clients to flow from one topic to another and at which points you want them to buy a service.
Then start making out content funnels. These are sets of content and copy that funnel prospective clients from search results (or social media) through to point of sale (and beyond but that's a bit more advanced).
Once you have your first content funnel 'map' you can then create a plan for the blog posts and other content you need to create that funnel. The plan should include a timeline for when you'll publish posts etc.
Once you start creating and publishing your posts, take a look at your data to see how they're performing. (If you haven't set up Google Analytics and/or Google Search Console, do so as they're invaluable in evaluating what works and what doesn't so you can improve.) See how many people are viewing your posts, how they're getting there, how long they spend there and where they go when they've read each one. When posts do well, plan to create similar posts on other topics or more posts on similar topics. When posts do poorly, see if you can improve them.
How to write a blog post

 

— includes a template for SEO-friendly blog posts
The Content Marketer's Blog Post Playbook — this is an upcoming ebook that lays out 7 high-performing blog post styles and I'll let you know when it's available
Ideas for content you can produce for every part of your sales funnel
You've started posting more regularly on Facebook, Twitter and Instagram and you use a few different types of posts. But you struggle with reaching new customers through this medium.
Posting insights into your operations
Posting success stories
Including images
Posting amusing things
Responding to comments
Top areas for improvement
Follow more profiles
Focus on solving target client problems and answering questions
Research popular hashtags
Share curated content
Research has shown brands get the best results when they share curated content, original content and sales content.

Curated content is other people's content that's relevant to your audience. To share curated content, find something relevant/amusing/interesting/informative, then create a post that shares the content and also provides your own commentary on it — this demonstrates your expertise and provides added value to your audience. Sharing curated content encourages others to share your content which improves your reach. It also helps you provide more value to your audience with less of a time investment from you, and become the go-to source of information for your target market. Plus it stops you being seen as a brand that only talks about itself and is only out to sell, sell, sell…
Original content is stuff you've created. Original tips and blog posts shares are good examples.
Sales content is anything that prominently promotes your brand. Things like customer reviews and testimonials, photos of successful projects and notices about events, services and special offers are examples of sales content.

All businesses should experiment with different types of content, and the ratios at which they post each kind of content, to see what works best for their unique circumstances. But there are some guidelines you can follow as a good starting point for your business.

 

(Note that these guidelines don't apply to comments where you're directly engaging with your audience.) In many cases, retail brands (whether ecommerce or not) tend to be able to get away with something closer to the 411 Rule, while service providers tend to have to reduce their salesy posts as in the Golden Ratio. B2B brands from many industries tend to need to share a significant amount of content from highly regarded experts.

The 'Golden Ratio'

 

— One frequently talked about guideline is the Golden Ratio. It states that 60% of a brand's content should be curated, 30% can be original content like blog post shares, and 10% can be salesy content like new product and event announcements, and testimonials.
The 80:20 Rule — The 80:20 Rule is similar to the Golden Ratio in that it specifies that 80% of your content should be aimed at informing, educating and entertaining your audience while the remaining 20% can be content that directly promotes your business.
The 411 Rule — The 411 Rule is basically the other two combined. It states that for every promotional, salesy, self-serving post you publish, you should publish one piece of original content that's designed to inform, educate or entertain, and four pieces of curated content.

Encouraging engagement is a great way to improve social reach, which is a great way to attract new clients. You can encourage engagement by asking questions.
Share each of your blog posts regularly. Depending on how many social media posts you want to deliver each week, this could be anywhere from once a week to once every couple of months.
Find relevant social profiles on each platform that aren't competitors. Like and share their posts with your audience. On Instagram and Twitter, you can also follow them. Relevant brands could be things like local builders, interior designers, hot water system retailers and plumbers. By sharing the content of these kinds of brands, and by them sharing your content, you can gain access to people who may not quite be ready for your services but will need them in the future. As an example, someone who's looking for new downlights is going to need an electrician. If you can get them aware of your business when they're still shopping for the downlights they want, you can prevent them needing to look for an electrician.
Develop a strategy for using hashtags to promote your posts to a wider audience. Use resources like

 

best hashtags

 

to figure out which popular hashtags are going to work best for your brand and audience and develop guidelines for when you'll use each one so you can create better performing social media posts in less time.
Experiment with new kinds of social media posts. In particular, start posting tips and short answers to commonly asked questions.
Take some time to regularly search your social platforms for posts where people have asked for recommendations for electricians in the areas you service. Also look for people asking relevant questions you can answer. You can then respond to these posts. When you do so, don't go for the 'hard sell'. Just respond with simple, accurate answers to questions and let the person know you're happy to provide more info if they need it or have further questions. When it comes to recommendations, you can tell the person about a similar project you've completed successfully and let them know how to get in touch if they'd like to discuss how you can help them.
If you're not already using a tool to schedule and manage your social media posts, investigate the many options available and choose one that works for you.

 

Buffer

 

and

 

hootsuite

 

and two popular choices that you can use for free.
Have a think about creative ways you can visually showcase your business's work. Obviously much of John's electrical work isn't particularly glamorous or even visible. But when he installs downlights for instance, he could take a before and after shot to show how much nicer the room looks with the new lights. This is particularly important on Instagram.
Action 3 — Google My Business
You don't have a Google My Business page/profile but having one is really important for 'local businesses'.
You're ranking pretty highly for the search term 'Torquay electrician'. (This was followed by a screenshot of the brand's ranking in the map search results for that term).
Top areas for improvement
You're not ranking well for terms like 'electrician in Geelong' and other similar terms
Google My Business is probably the most important place where Google gets information about businesses for 'local searches'. Especially if the search is a 'near me' type search as opposed to a 'in X place' type search.
A local search is any internet search where the person is looking for a product or service in a particular geographic area. For you, this is searches like 'electricians in Torquay' or 'electricians near me' or 'safety switches Geelong'. Google almost always displays a map search result below any paid search results and above the normal 'organic' (non-paid) search results. And if someone is looking for an electrician near them, they're highly likely to investigate the options listed in the map search results before they move onto the other organic listings (which they'll only usually do if they're not happy with what they see when they investigate the first few options). In fact, 92% of searchers will pick businesses on the first page of local search results. (Source:

 

SEO Expert)
97% of people learn more about a local company online than anywhere else. (Source:

 

SEO Tribunal)
88% of searches for local businesses on a mobile device either call or visit the business within 24 hours. (Source:

 

Nectafy)
'Near me' or 'close by' type searches grew by more than 900% over two years. (Source:

 

Chat Meter)
Local searches result in purchases 28% of the time. (Source:

 

Joel House Search Media)
Business name

Logo

Services areas

Opening hours

Contact details

SEO-friendly summary

Services

You don't need to put in a publicly available address if you don't have a non-home address for your business, but if you do have an address you can put in, that's better
These things are going to put you on the path to success, but there are of course other things you can do to get your marketing really working for you. Here are some other top priorities.
Your site speed is pretty good but there are 50-odd SEO 'errors' on your website, 25 of which are considered critical. As such, I highly recommend you do a full SEO audit to help you identify and fix issues that are negatively impacting on your website's performance.
Who should do this?
You can do your own basic audit using

 

Ubersuggest
If you don't have the time or don't have the industry knowledge to interpret the information supplied through Ubersuggest, you can hire someone to do one for you. The company that did your website design offers SEO services so probably offers SEO audits. Alternatively, I provide an SEO audit service.
Your website currently only has 2 backlinks (links from other sites back to yours). Backlinks boost search rankings and drive website traffic — and one of your two strongest competitors already has 189 of them. (The other only has 2 but I'd say they have a Google My Business profile that's boosted their position in the local search results.)
A basic strategy for attracting quality backlinks could really amplify the results that you're getting from your website and blog so I highly recommend developing one as a high priority (after actioning the recommendations from a site audit).
Who should do this?
You can develop your own backlink strategy. And I plan on producing a blog post about this in the near future that should help with this.
Or you can hire someone to do it for you. Most SEO service providers will offer backlink services though many of them will want to do the legwork in getting backlinks for you rather than developing a strategy that enables you to do it yourself (because that generates more revenue for them). Again, the business that produced your website may offer backlink services. Or I can develop a bespoke 6-month backlink strategy for $750. (A 12-month strategy is $1000 but I recommend a 6-month one first so you have a chance to see what works for your brand.)
As you start to figure out what works and doesn't work for your particular target market as well as for the way you work, you can start developing more detailed strategies for each aspect of your marketing activities. As these become more sophisticated, you'll see increasingly better results from your marketing efforts.
Now that you've got this mini strategy as a starting point, you may be able to develop your own strategies. If you'd like to have a go, I've got a document that may help you get started (link removed to protect intellectual property). It's actually the template that I give all my clients when they want me to deliver something for them. But most of my clients also find it's super useful in terms of helping them clarify how they need to approach marketing in their own minds. When you've done the other tasks in this strategy and are ready to start your next marketing project, fill in a blank copy of the template and create your own brief. You can then use it internally to create a strategy and plan for your project or you can give it to someone else if you decide to outsource any aspect of the project.
If you need some help, I can jump on the phone and talk through your challenges (consulting is $100/hour) or I offer a range of marketing services that might suit your project.
If you're unsure about anything in this strategy, send me an email or text, or give me a call and I'd be happy to answer any questions. If you want to explore additional areas of your marketing, as noted above, I offer one-on-one consulting ($100/hour) and a range of marketing services.
I'll check back in soon to see how you're going with this strategy and to ask for your feedback so I can make this service the best it can be. So expect to hear from me again soon!